Timbavati Game Reserve
Established in 1956, Timbavati Private Game Reserve covers 75 000 hectares of unfenced pristine wilderness. Bordered by the Kruger National Park and the Sabi Sand Private Reserve the wildlife are able to wander freely between the unfenced reserves, and guests are likely to be treated to frequent Big Five sightings and will have the opportunity to see a broad spectrum of the plant, animal and birdlife.
The Timbavati is a Private Reserve, which means that lodges can offer to take their guests on night drives and on bush walks, creating a whole new perspective on safari. There are no public visitors allowed in the Timbavati, guaranteeing you will have an authentic safari experience.
Excellent Viewing

Excellent game viewing opportunities of the Big Five, other wildlife and offers an array of birdlife for bird lovers too.

Game Drives

Open game vehicle drives are available with experienced game rangers.

More Opportunities.

Special night drives and unique walking safaris are offered for even more game viewing opportunities.

Highly Rated Lodges

Several lodge choices are located on the reserve, and all are well-regarded and highly rated.

Convenience Packages

Most travel packages are all-inclusive for complete convenience.

Based on millions of reviews we've been awarded one of the Top 10% Attractions worldwide!

Tripadvisor Travelers' Choice 2020
Activities Spotlight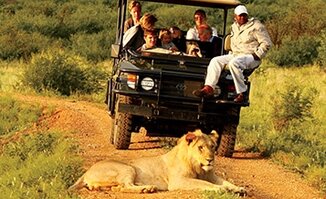 Game Drives
Rest your feet while going deeper and farther than you ever thought possible for up-close game encounters. The game drives leave just before sunrise, ensuring that you get to see the entire bush wake up. The feeling of excitement and being at one with nature is indescribable.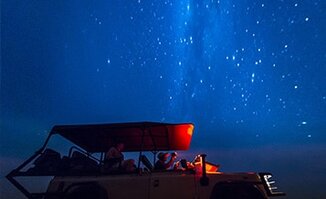 Night Drives
As the sun sets over the horizon, the African bush is awash with colours and sounds. The evening dawns and the nocturnal animals come out from their sleeping spots. Night time is when new adventures are to be had while on safari. You learn how to slowly scan the trees and shrubs around you and to pick out the shiny white reflections from the light on the animal's eyes.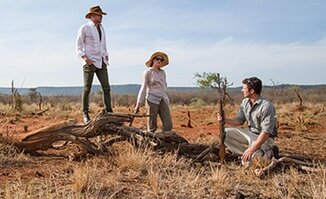 Walking Safari
Head out on foot in the company of your armed guide, and discover an altogether different view of Africa. The walking safari takes on a completely different perspective because each of your senses will be on full alert as you feel the grass and stones beneath your feet; taste the sweet grass of the veld; and hear the crack of a branch indicating you are not alone.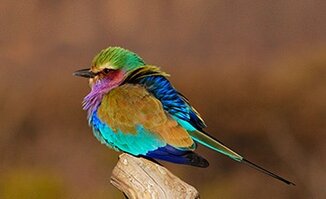 Bird Watching
With over 300 species recorded, Timbavati Game Reserve is a great birding destination. Migratory birds are present from November to April. Serious birders will have a lot of opportunities to take a look at birds because birding is the main focus during game drives, private game drives as well as safari walks.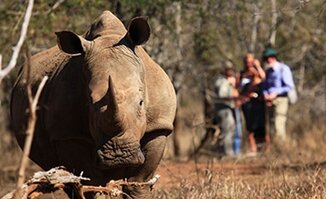 Rhino Tracking
Rhino tracking in South Africa is a very popular event. South Africa offers you the finest opportunities to go rhino tracking through an abundance of magnificent wilderness. Rangers and tracker team will help and attempt you to track your favourite animals.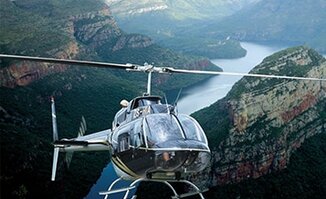 Helicopter Scenic Flight
This exhilarating flight swoops over deep canyons bursting with vegetation and colour. Your flight will continue along the escarpment which offers awesome panoramic views, allowing for spectacular photographic opportunities. Simply the best way to experience the beauty and capture the splendour of the magnificent Timbavati Game Reserve.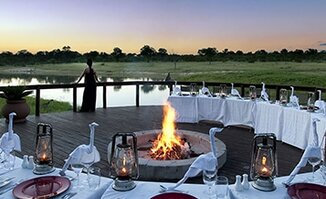 Boma Dinners
Returning to your camp after a successful evening game drive, you are greeted with the enticing sight of beautifully presented dining tables all encircling a roaring fire. Sitting down next to the crackling fire you are warmed by its dancing heat as the evening.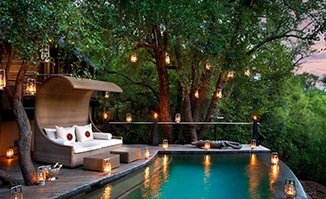 Swimming Pool
The best way to end the day is to swim in a pool, with spectacular views of the unspoiled landscape surrounding. The swimming pools are well situated for both bird watching and game viewing, whilst cooling off with a refreshing drink in hand. Timbavati Game Reserve offers such places of paradise in different lodges.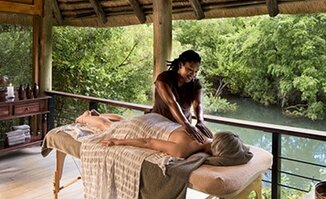 Spa Treatments
Our spa retreats will leave you feeling revitalized and rejuvenated, with treatments that are proven to be beneficial for the mind, body, and soul. Spa treatments are the ideal way to unwind and each of our offerings is created for men and women. The perfect place to rest and relax.
Wildlife
Timbavati Private Game Reserve is home to the popular Big Five and other wildlife animals such as buffalo. Enjoy a sundowner as the sunsets in the Timbavati and watch the beautiful stars light up at night. Guests are able to try their hand at fishing in the dam or enjoy a photographic safari with a professional who will teach guests about taking the best wildlife photo.
Guests can view lion, leopard, elephant, buffalo and rhino, in over 10 000 hectares (24 000 acres) of traversing area, also home to over 40 mammal species and 350 bird species. Bird-lovers would struggle to replicate this calibre of bird watching anywhere else in the world, with the Timbavati featuring over 360 different species.
The dry months of June to September is peak wildlife viewing time in Timbavati. August to September is a desirable time to visit, as the temperature warms up and sightings are made even easier because animals gather around predictable water sources.

Get Our Best Rates
Let Us Help Plan

Your next Vacation